That link is George Pleydell Mansell and Tim's mission is to find that Lodge, visit it and bring greetings from the Worshipful Master, Wardens and Brethren of 1266. The Lodge in question is Unity Lodge No.4 in Lunenburg, Nova Scotia – about 40mins drive from where Tim is going to live. The link is as follows.
George Pleydell Mansell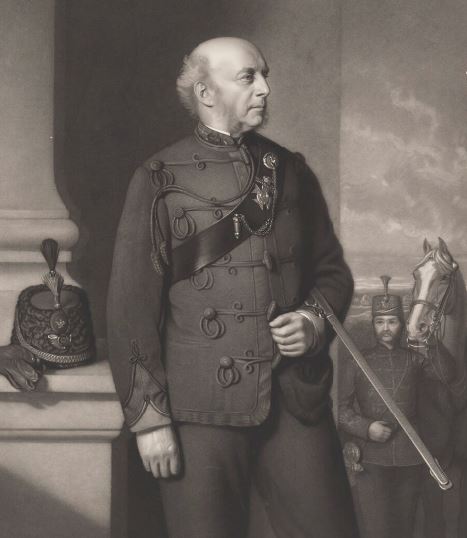 The first Senior Warden of the Lodge of Honour and Friendship 1266 in 1869 was George Pleydell Mansell. He was 52 years of age at the time.
George Pleydell Mansell was born in Bramshaw, in the New Forest in 1817. His Father was Col. John Mansell who was a companion of the Order of Bath, his Grandfather was a baronet and the Member of Parliament for Carmarthenshire in Wales.
In 1836 he became an Ensign in the 53rd Regiment by purchase. The practice of purchasing a Commission in the army only applied to Infantry and Cavalry Regiments. The practice started in 1683 during the reign of King Charles II and continued until it was abolished on 1 November 1871. At the time of purchase Georges' commission would have cost around £450.00 – about £40.000 in today's money.
From April 1838 until June 1840 George was stationed in the Ionian Islands, a group of seven Islands off Greece the largest being Corfu. The Ionian Islands were a British Protectorate which we had taken from the French between 1810 and 1814. At that time the rest of Greece was ruled by the Ottoman Empire.  During George's posting to the Ionian Islands a number of his fellow soldiers died of a mysterious yellow fever.
In 1840 George becomes a Lieutenant in the 53rd Regiment by purchase. This will have cost a further £250.00.
In 1841 Lieutenant George Mansell of the 53rd Regiment is stationed in Plymouth
In 1843 he becomes a Captain in the 53rd Regiment, again buy purchase. To do this he will have had to stump up another £1,100.00.
In all his Commissions in the Army will have cost him the equivalent of around £160,000 in modern money.
In 1844 he becomes a Captain in the 46th Regiment by exchange; this is likely a free transfer.
In May 1845 Captain George Pleydell Mansell is posted to Canada and later in that year he was initiated into Unity Lodge 565 (Now Lodge No 4 of the Grand Lodge of Nova Scotia) in Lunenburg, Nova Scotia.
In 1846 George transfers again to be a Captain in the 2nd Battalion 60th Kings Royal Rifle Regiment, still in Canada.
In 1846 George joins Social Friendship Lodge held in Her Majesties 89th Regiment of Foot, also deployed in Canada – still listed as a Captain in the 60th Rifles.
In 1848, having returned to England, George married Jemima Henrieta Gambia in St George, Hanover Square, Middlesex
In 1852 George appears on a Dorset Militia List – he eventually rises to the rank of Honorary Lieutenant Colonel of the Dorset Volunteer Rifles.  
In 1855 George Pleydell Mansell is listed as a magistrate living with his wife and children in Langton Lodge, Blandford.
Although George was the first Senior Warden of 1266 he never went through the Chair of this or any other Lodge. He remained a member of 1266 for four years. He then inherited Smedmore House and the Kimmeridge Estate on account of his being the most eligible living relative to the last of the Clavells. The Clavells had held the Kimmeridge Estate since the late 1400s.
In 1895 Col. George Pleydell Mansell JP DL of Smedmore is Chairman of the Wareham Bench of Magistrates.
George passed to Grand Lodge above on the 26th March 1896 aged 78 – Jemima followed him less than 3 months later.
Over to you Tim – we look forward to your report!
Mark Hinsley
Past Assistant Grand Director of Ceremonies, Provincial Grand Director of Ceremonies, Past Master of the Lodge of Honour and Friendship 1266
Masonic Province of Dorset, England.