Freemasons from the Provinces of Middlesex and Buckinghamshire, with support from the Province of Cornwall, undertook a sponsored cycle ride from Exeter to Newquay to raise funds for CHAPS in recognition of the work they undertake to identify early signs of prostate cancer.
The challenge was inspired by the diagnosis and treatment for prostate cancer of Allan Pulford, a member of the Circle of Friendship Lodge in the Province of Middlesex.
Organised by Alfie Buckland, a fellow Member of Circle of Friendship Lodge, the sponsored ride attracted support from representatives of three Lodges in Middlesex and three in Buckinghamshire, along with non-Freemasons.
The challenging event, which included traversing Dartmoor in unseasonably wet and windy conditions, was successfully completed over the days of the 29th and 30th of August, culminating in a cheque for £3,500 presented to the Circle of Friendship Lodge Relief Chest at a special Festive Board organised by Towan Lodge in Newquay.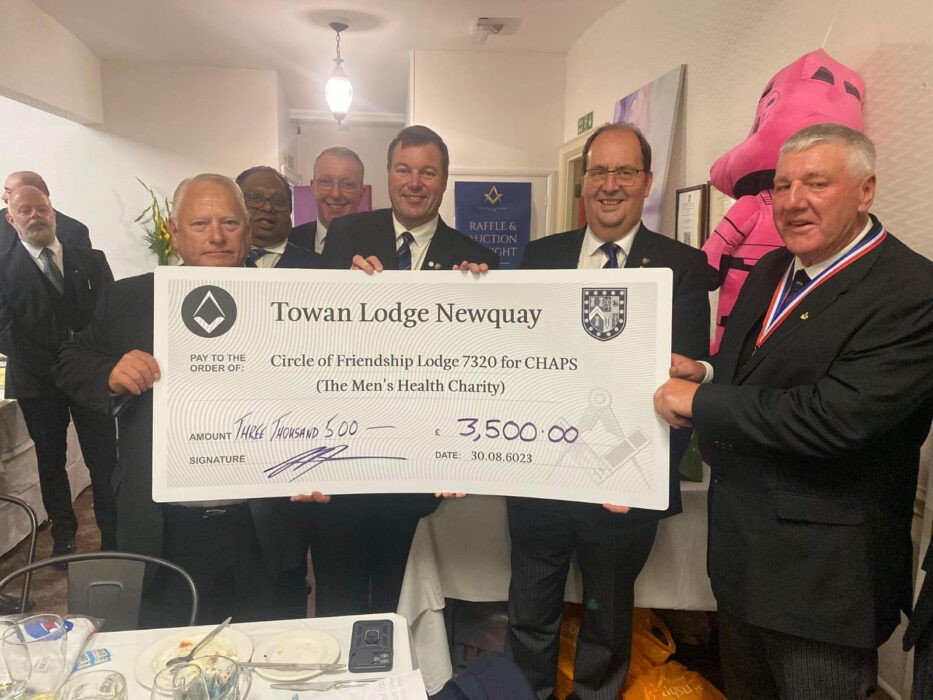 The final sum raised through sponsorship is likely to increase this amount substantially.
The Festive Board attracted a number of distinguished brethren from across Provinces to honour the achievements of the riders and their support team, including Jim Mitchell, Deputy Provincial Grand Master of Middlesex, David G Maskell, Provincial Grand Master of Cornwall and David G Leaity, Deputy Provincial Grand Master of Cornwall.
At the meeting, they heard from Allan Pulford about his experience and recovery from prostate cancer and the nominated charity, CHAPS. After several months of radiotherapy treatment, Allan received very encouraging results and is now in remission.
The Cornish Connection - 
At his Initiation, the Charity Steward of The Circle of Friendship Lodge, Jayesh Maru, had been supported by his uncle Vasant Maru from Cornwall, along with several members of Towan Lodge in Newquay a few years previously. Towan Lodge continued to show their support by attending in numbers for Jayesh's Third Degree and his Ladies Night.
Alfie approached Towan Lodge with the idea of organising a Charity bike ride from Exeter to Newquay and hopefully attending a Lodge meeting. They immediately contacted their Province to ask for an Emergency Meeting and informed Alfie that the Provincial Grandmaster of Cornwall would also like to attend.
In turn, Alfie contacted the Middlesex Deputy Provincial Grandmaster, Jim Mitchell, who was enthused and asked to be booked in straight away. Following the promotion of the initiative, a number of Middlesex Masons made the journey down to Newquay to welcome the riders upon their arrival.