Devonshire Freemasons in association with the Masonic Charitable Foundation (MCF) are very pleased to present 'The Hollow Lane Club' with a donation of £15,000.
Mary Roche established the charity over 23 years ago and is dedicated to enhancing the lives of children and young people with severe special educational needs.  Deb Ward has also worked alongside Mary as their Administrator for the past 19 years.  The dedication and enthusiasm for what they do shines through as soon as you meet them and their team of over 80 staff.
The Hollow Lane Club provides out-of-school activities for children with complex special needs and their siblings across three locations in Devon. The young people attending the Clubs are aged between 3 and 25 years and have multiple disabilities including physical and social disabilities, challenging behaviour and visual/hearing impairments and other medical conditions.
Participation in leisure activities is essential for the personal development of all the young people, they want to go to clubs with their friends and enjoy activities as would any young person but need extra support to make it possible. The Hollow Lane Club aims to reduce the isolation experienced by these children, helping them to develop positive relationships and essential life skills by engaging in stimulating activities.  It runs from three separate sites in Exeter and Dartington, Devon.  The Club is financially independent and raises all its own funds and offers a year-round programme of activities including After School Clubs, Saturday Clubs, Sibling Groups and a Summer Club.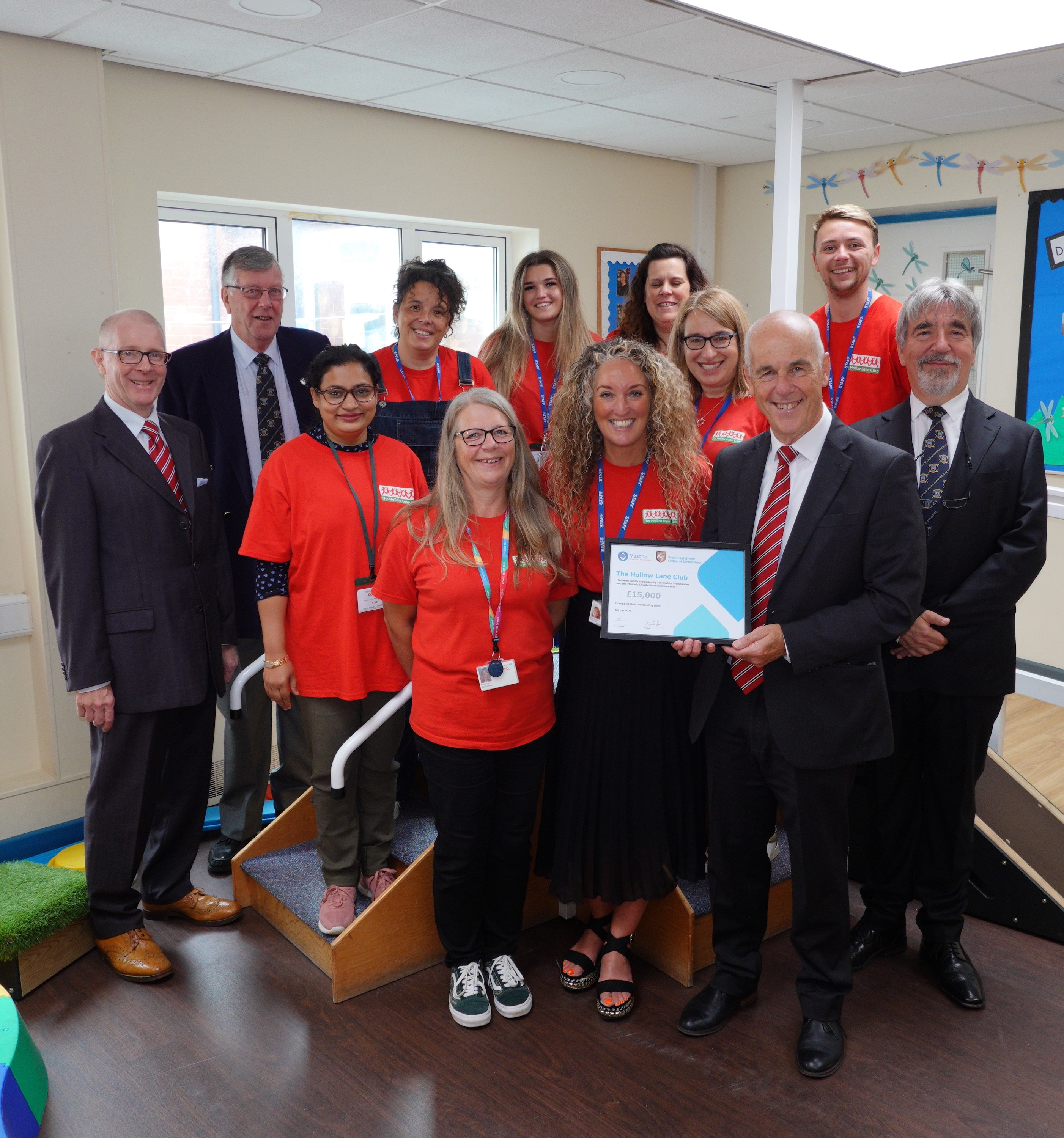 Devonshire Freemasons Provincial Grand Master Nicholas Ball said:
A fantastic facility and Club. My first impression however was the joy on the children's faces. It was so evident that they really enjoyed being at the club and were happy and comfortable in the surroundings.

As for the staff, they  are truly amazing and very special people. Their role is not easy but their patience, care and love for the job was clear to see. Their relationship with the children was so moving and I came away feeling both happy and sad.

I hope that our money will help in bringing further joy into the children and making it more accessible for others to join. A wonderful cause.
The Hollow Lane Club General Manager Mary Roche said:
 We're here to support these very special young people, their parents and families. Many families struggle to find a safe and caring provision for children that may have such complex needs. As General Manager of the Club,I feel very proud that we are able to provide this provision with the help and support of our dedicated staff.  

We care for around 60 children a day and have up to 100 families we support throughout the whole year. At times, the relief  and  gratitude we receive from our families is quite overwhelming and emotional. Without the support of our funders, such as yourselves, we would not be able to support our families with the respite that is very much needed. 

We'll be using the Freemasons donation to help fund our exciting and adventurous timetable together with the transport that goes alongside this, which is such an important part of what The Hollow Lane Club is all about. With very many thanks.
Ofsted said in 2015:
Staff treat children with a great deal of respect, which results in a harmonious, caring environment where every child is valued.

The highly challenging activities offered are adapted to ensure all children are able to access them.
Charity has always been a core principle of Freemasonry, and Devonshire's Freemasons contribute to the Masonic Charitable Foundation nationally. Over the last 300 years Freemasons have established a number of charities – including schools, care homes and a hospital. The Masonic Charitable Foundation (MCF) was created in 2016 and brought together the work of four separate charities: The Freemasons' Grand Charity, The Royal Masonic Trust for Girls and Boys, The Masonic Samaritan Fund and the Royal Masonic Benevolent Institution
Funded entirely through the generosity of Freemasons and their families, the Masonic Charitable Foundation (MCF) is one of the largest grant-making charities in the country.
We build better lives by enabling opportunity, advancing healthcare and education and promoting independence.