What a day the brethren of St. Michaels Lodge together with Salem Lodge had on Friday 14th July, you would have thought it was Friday 13th.
The original plan was to visit King Arthurs Lodge 7134. They meet at King Arthurs Hall Tintagel in the Province of Cornwall where we were to enjoy the company of their brethren and partake in their annual Pasty & Strawberry night, this is always accompanied by Scones and Cream and a lively discussion took place as to which goes on first, the Cornish says Jam, those from Devon says Cream, but as we were visitors we of course bowed to their wishes, jam went on first with large quantities of cream to follow and a superb evening was had by all those present, this after an excellent raising ceremony held in the main hall where the Worshipful Master, Glynn Prout, sat astride King Arthur's huge granite throne above the round table.
The day had started badly with a phone call from the Worshipful Master of St. Michaels, Les Dacombe, at 8am to advise us that the Dawlish Community Bus Company that was to provide the transport for the fourteen brethren who were travelling had been the victim of an arson attack overnight and had lost six buses to the value of £280,000 and as a result could not pick us up. 
After contacting every bus company in Devon, the Okehampton District Community Transport Group came up trumps and found us a bus and driver who they immediately dispatched towards Newton Abbot for a midday pickup, sadly he encountered a huge traffic holdup which it turned out was due to a crash on the A38 outside Exeter which delayed his reaching us until nearly 1300 and to top it all it hadn't stopped raining all morning.
We eventually arrived at Trebarwith Strand, a beautiful cove overlooking the Atlantic on the North Cornwall coast for a refreshment stop, luckily just before they stopped serving lunches and relaxed for a while before resuming our journey to Tintagel.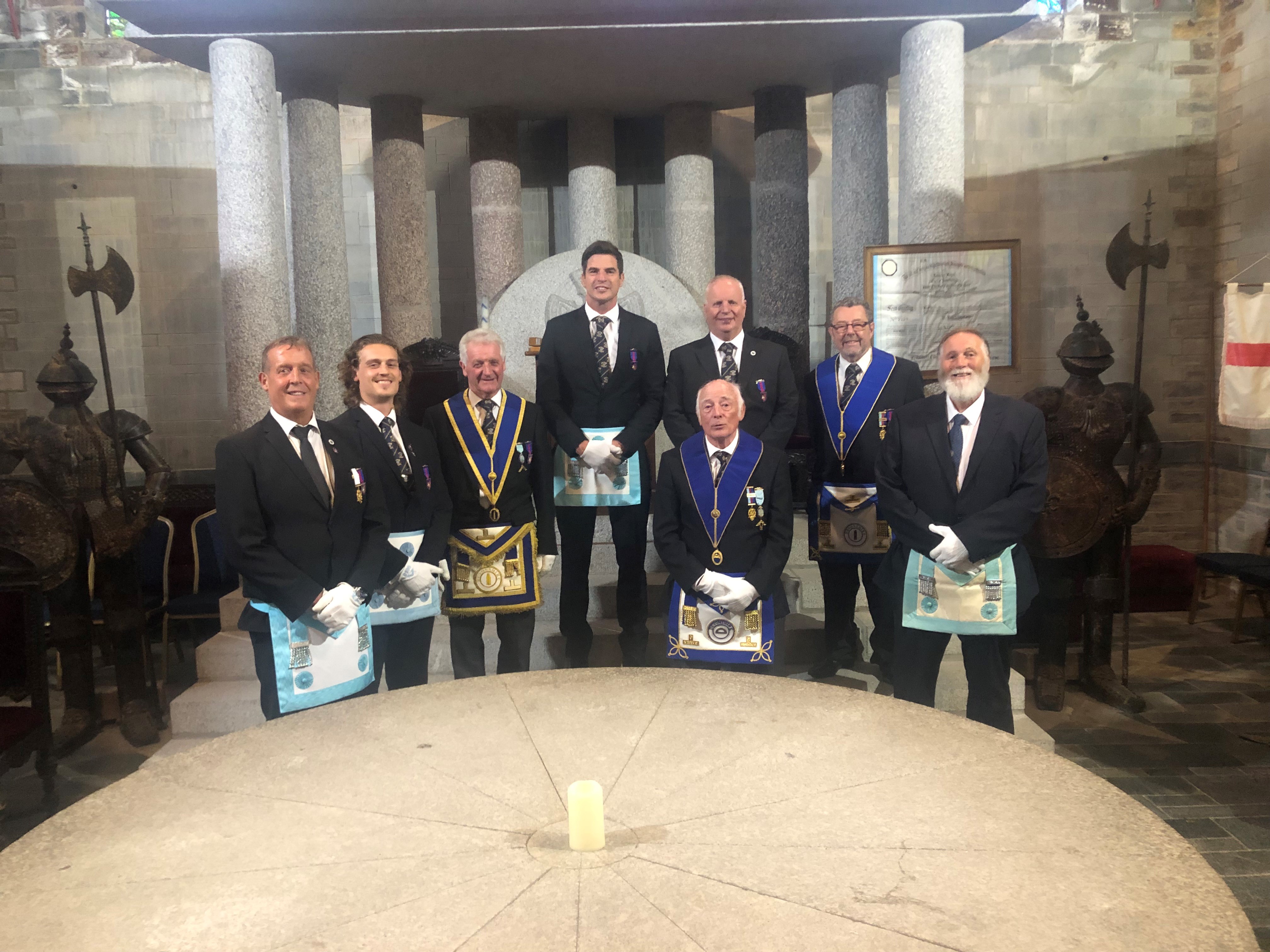 What was so nearly a disaster for those travelling was avoided by the help of the Okehampton District Community Transport Group which had recently received a £15, 000 grant over three years from the Devonshire Freemasons and the Masonic Charitable Foundation (MCF) and was only too happy to show their appreciation by providing transport for us.
Let us hope we can support the Dawlish Community Transport Group getting back on its wheels once we know the extent of the damage and what their insurance company can or can't do.