UGLE celebrates the Six Nations Rugby Tournament
To celebrate the Six Nations rugby tournament, the United Grand Lodge of England (UGLE)  has delved into our special interest Lodges to find out the ties between rugby and Freemasonry.
To find out more information we spoke to some of our members who are heavily involved in specialist rugby Lodges.
We spoke to Andrew Ridal, 41, a membership systems training officer at UGLE who was at the forefront of setting up the West Lancashire Barbarians, a rugby specialist Lodge in West Lancashire. Andrew has been a Freemason for 11 years after his father suggested he joined the cause to increase his social circle when he first came to London in 2012. Andrew grew up in Cumbria where rugby league is traditionally played but converted to the 15-man game when he went to University.
Andrew said: 'I loved it, I've always loved playing rugby. I love the energy and the physical contest that you get from it and the social aspect of it as well. There's a lot of silliness and I think that's what appeals to people.'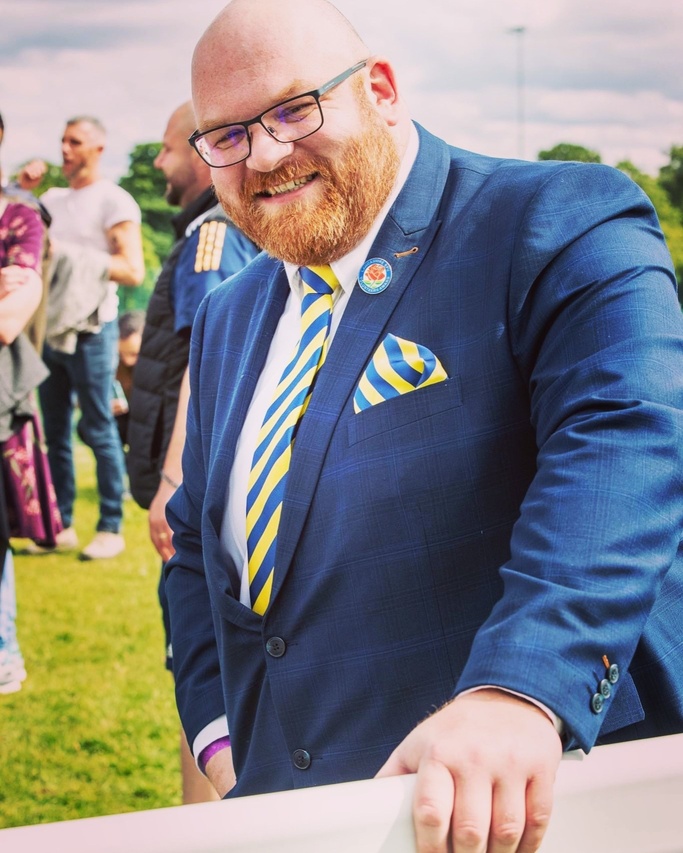 We also spoke to Perry Stewart-Halford, 31, an electrical engineer and a founding member of the Union of Rugby Lodge in Leicestershire and Rutland. Perry has been a Freemason since turning 21 and is going to be installed into the King Solomon Chair this year by his father. Perry used to play rugby when he was very young but turned to coaching and getting involved in the background of rugby since needing a cochlea implant at 13.
Perry said: 'I am trying to forward the knowledge I've learnt by playing over the years and pass that on. It's critical we support grassroots rugby and pass over the skills people need for everyone from children to even veterans who haven't played for a while but want to get back into it and get tips.'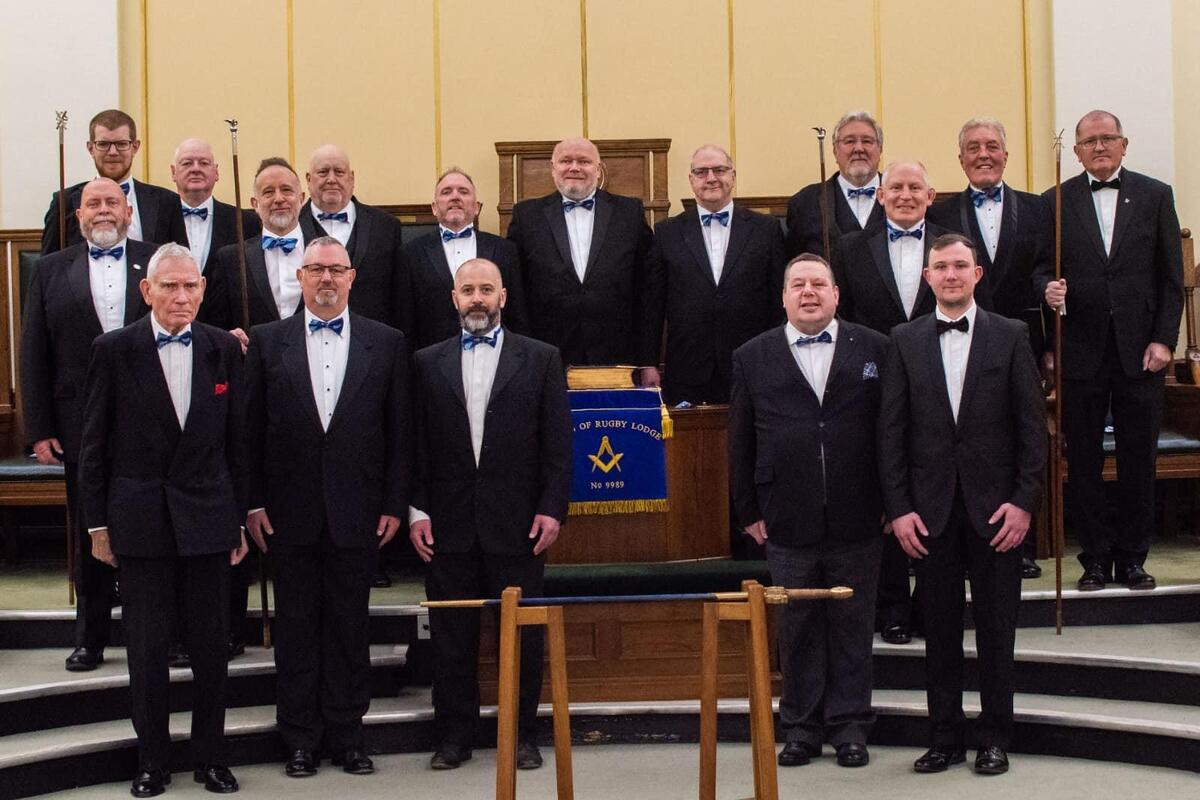 Special Interest Lodges
A special interest Lodge is formed by Freemasons who have a shared interest or hobby. There are many different special interest Lodges up and down the country ranging from football and golf to classic cars and motorcycling.
Both Andrew and Perry explained to us their thoughts on the success of special interest Lodges and in particular their relation to rugby.
Andrew said: 'In terms of why a subject-specific Lodge works, like a rugby Lodge, it just goes back to the beginning of masonry when Lodges were founded. It's a group of like-minded people who have a similar interest in common, coming together and meeting as Freemasons. That's how strong Lodges are formed.
'Having subject-specific lodges is nothing new, historically speaking that's what Lodges were, they were groups of solicitors, bankers, builders, plasterers, you name it and they had their own Lodge.'
Leading on from this Perry added how special interest Lodges are a great way to gain new and diverse members who may have an interest in a particular area in this case rugby.
Perry said: 'When you have specialist Lodges, they encourage bringing younger people into Freemasonry and when it comes to rugby, and you play rugby, you have that whole camaraderie and that whole community.'
Andrew added: 'It's going back to how it was and people are seeing value in specialist Lodges. Thinking about it from that perspective, it's taking that idea of having a purpose and a difference to a Lodge next to it.'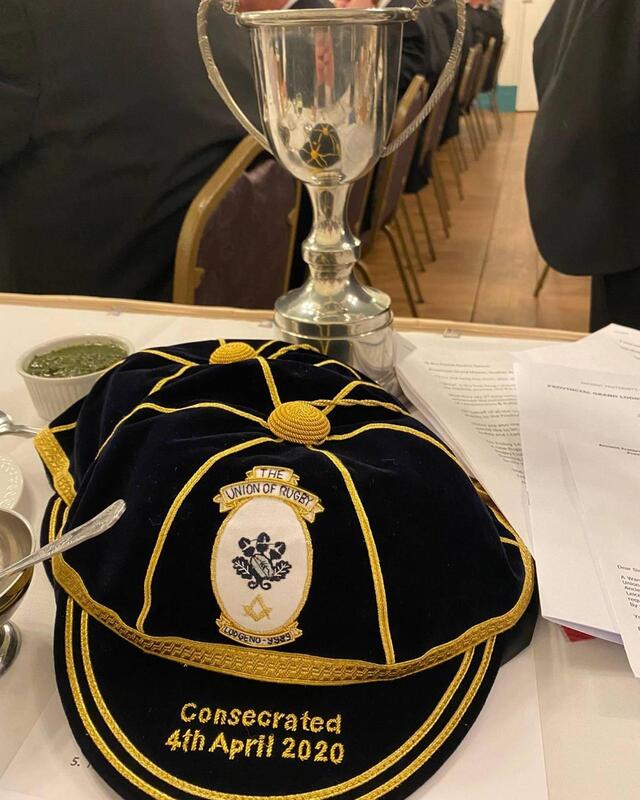 Rugby Lodges
A rugby Lodge is very much what it says on the tin, it is where some of the traditions and culture of rugby can merge and meet with Freemasonry.
Andrew was a founding member of a rugby special interest Lodge, the West Lancashire Barbarians. After playing in a successful provincial rugby team, members wanted to form a Lodge centred around the sport. A Lodge was taken over by the West Lancashire Barbarians after negotiations and the first meeting took place in 2020. Unfortunately, this coincided with the COVID-19 pandemic and put a stop to everything.
Andrew said: 'It sucked any energy and enthusiasm out of it as people's lives changed. The new Lodge we rescued became the least in people's priorities.'
Perry was a founding member of the Union of Rugby Lodge in Leicester after meeting a group of like-minded people two to three years ago through the Light Blues social club and it kicked off from there. A compelling argument was made to the Provincial Grand Master and he thankfully approved the formation of the new special interest Lodge.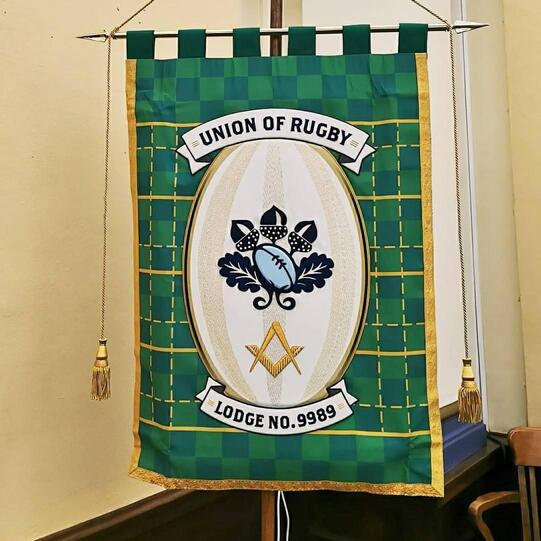 Perry said: 'To be a founding member of a rugby Lodge is fantastic and so is being able to support something that this country really needed.
'The rugby Lodge is moving forward nicely and we are getting loads of people coming in. With Freemasonry in general it is really nice to see the numbers going up now. 
'Rugby always brings people together in the same way Freemasonry does. The bond that you have on the rugby pitch and off it is totally inseparable.'
With an increase in memberships, we wanted to know what was so appealing about the special interest rugby Lodges. Andrew and Perry were able to shed further light on why they are so popular with Freemasons. 
Andrew said: 'I think it does attract a similar person with a similar sort of personality. Someone who appreciates a sense of camaraderie and frivolity.
'Someone that enjoys doing something with a group of your mates, bringing you together and then celebrating afterwards. You can say that about Freemasonry or Rugby and that's why it does so well.'
He added: 'I like the diversity in the organisation, I enjoy an environment where you can walk into a room and have a lot of people from all different races and religions and all doing something together and that feeling of togetherness is something I value and cherish.'
Perry went on to emphasise how the bonding and friendship found in rugby teams are parallel to those in Freemasonry.
He said: 'If someone needs any help or support we always make sure we take care of them, that links up to Freemasonry. We always make sure we take care of each other and most important it's always about the community.'
With specialist Lodges there is the opportunity to do things a little differently from ordinary Lodges, both Perry and Andrew explained how their meetings were inspired by rugby.
Andrew said his Lodge usually had very specific plans for meetings and installations on the night before the Six Nations.
He added: 'I think that's a good pattern for imitation. In terms of the rugby-ness of the meetings, our Deacons carried flags instead of wands and we commissioned a ball for the Director of Ceremonies. It was what was in the Lodge but was tweaked to be more rugby and that's quite common. At festive boards, it was also a bit more rugby-esque.'
Perry explained to us how his Lodge tried to meet on a Saturday and arranges meetings around rugby matches so that members can play or watch after the Lodge meeting.
He said: 'The way we carry out rituals is slightly different, our gavels are different shapes for example. The way we carry things out is slightly different but we keep the little traditions that have carried Freemasonry for over 300 years.'
Perry claimed a lot of the social side of his Lodge also revolves around rugby, with the majority of his Lodge watching England play at Twickenham in the Six Nations and those who couldn't make it met up to watch the match together.
He added: 'Generally if you want to invite someone who isn't a Mason, and they are interested in Freemasonry and they play rugby, we tend to use that as an opportunity so we can get to know these people before they join in and we use that as a focal point for potential candidates to join.'
Community Spirit
Along with Freemasonry, there are often misconceptions about rugby clubs. What people may not be aware of is the considerable amount that Freemasonry and in this case special interest Lodges do for charity and the local community.
Perry said: 'It's a statement we are making, we are harmless people and want to help everyone outside rugby.
'We are always reminded of our responsibility that lies in rugby and also being a Freemason. You are quite often told to you that you have to be responsible as you are representing a lodge or a team and you want to make sure you are shining a good light to the community. That is one of the most important things that we all do, making sure we shine Freemasonry and rugby in a good light.
'It is important that we continue to help the community and the rugby community. We want future generations to remember that the rugby Lodge helped them out. I want them to be interested in seeing what Freemasonry  is all about and ultimately have something to continue Freemasonry for the next hundreds of years.'
You can find out more information about Freemasonry and register your interest here.