April 29th, 2023, was a most memorial date for the Junior Engineers Lodge 2913. Exactly 121 years and one day from the Lodge consecration on the 28th of April 1902, a banner dedication ceremony took place at the regular lodge meeting.
This notable meeting was held at Freemasons' Hall, Great Queen Street, and was attended by very senior Brethren from Metropolitan Grand Lodge, Brethren of Junior Engineers Lodge, notable guests and visitors, and representatives from Junior Engineers Chapter and Evening Star Lodge No.1719. The event recognised the position of the lodge as the mother lodge of Junior Engineers.
The meeting took place in Temple No.10, a most befitting room for such a special occasion. Worshipful Master Grahame Walker was very pleased to welcome Deputy Metropolitan Grand Master Mathew Hampson, accompanied by a dedication party from Metropolitan Grand Lodge comprising of Escorting Officer Tim Spriggs, Revd. Canon Andrew Stevens, Alberto Revelli and Mark Patrick. The Lodge visiting officer, John Berry completed the official contingent from Metropolitan Grand Lodge.
The new banner was paraded into the Lodge room, initially covered from sight, by the youngest Brother in the Lodge, Jacob Brown (23), in due course, being ceremonially revealed to the brethren in its full glory.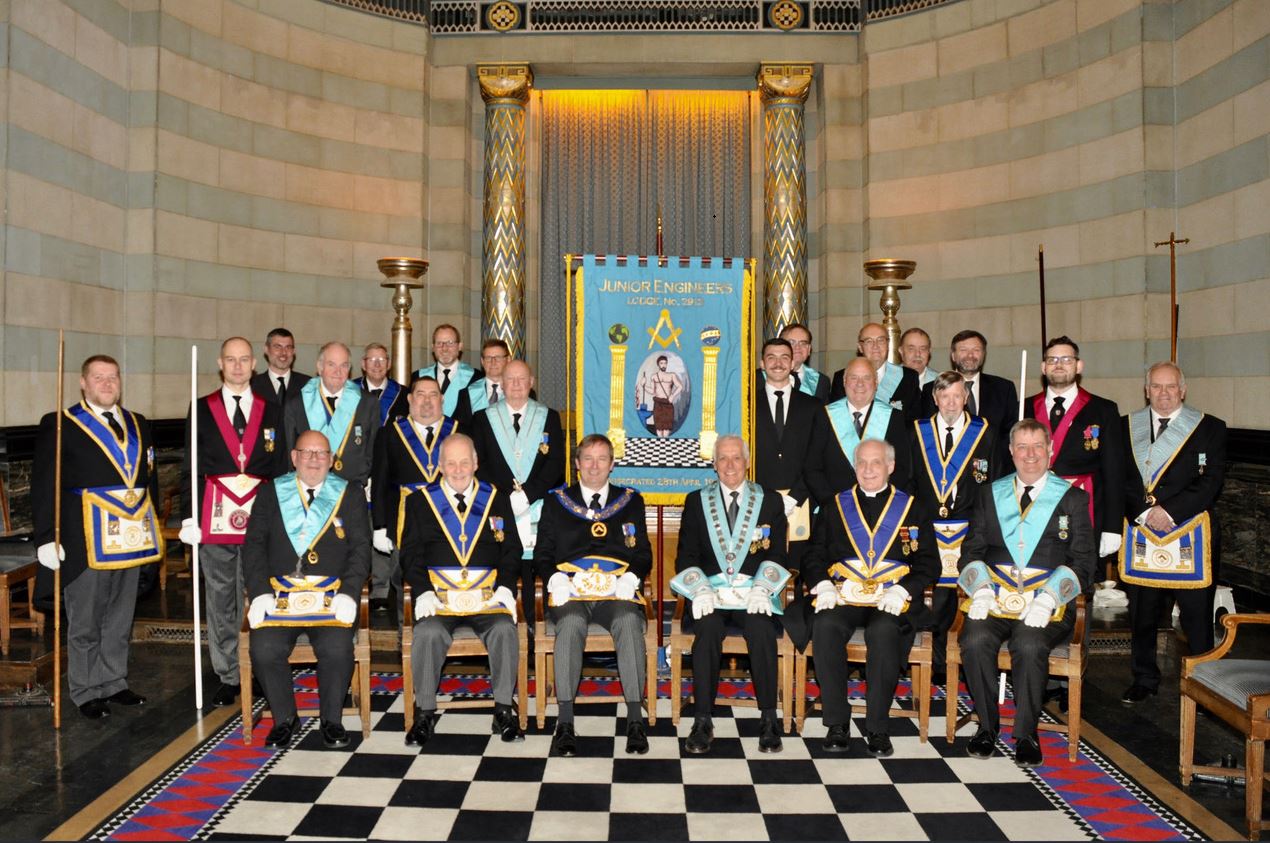 Revd. Canon Andrew Stevens of Evening Star Lodge gave an oration in which he included a detailed explanation of the banner's symbolism and the historic significance relating to the founding of the lodge in 1902, and the connection with Evening Star Lodge No.1719. He highlighted the banner's simple but stunning design, which uniquely features 'Vulcan' the Roman god of fire, which is to be seen on all the Lodge Jewels, recognising the link to "The Vulcanic Society" which was established in 1884 eventually becoming The Junior Engineering Society" leading to the formation of the Junior Engineers Lodge.
On the conclusion of the meeting, all the brethren gathered around the banner for the taking of photos, being very satisfied with their endeavours over the previous years. Everyone then congregated in the bar within Freemasons' Hall for celebratory drinks and the opportunity to catch up with old friends and make new acquaintances before making their way to the Royal National Hotel for a splendid Festive Board. During the evening's proceedings presentations were made to Master from the Evening Star Lodge Secretary Charlie Griffin to rekindle the connection lost over the years. 
The dedication party were all presented with copies of the Lodge history as a thank you and a momentum of the day. All the brethren present had a personal menu card, which incorporated a brief history of the Junior Engineers Lodge, as a keepsake of their attendance on a wonderful day, which was enjoyed, and will be remembered, by all.