One of the foundations of Freemasonry is inclusivity and equality and UGLE works hard to ensure members' of all backgrounds are supported and represented, especially those that identify as gay. One of the most common frequently asked questions, which we are going to explore in this post, is: Can you be gay and still be a Freemason?
The answer is a resounding yes, Freemasonry takes pride in its core values of inclusivity and welcomes new members no matter their race, religion and sexual orientation.
To help celebrate Pride month and give the spotlight to some of our more diverse members, we sat down with Mitch Bryan, 32, to discuss how he has found being an openly gay Freemason.
Mitch has been a member of the Freemasons for over ten years, being initiated when he was just 22 into the Royal Sussex Lodge of Emulation No.355 in Swindon and is now Worshipful Master.
The 32-year-old, who works for an energy company, has lived in London for 16 months and currently lives with his partner Tom in Chiswick.
We interviewed Mitch who shared his Freemasonry journey with us and explained how coming out to his Brethren helped 'instill' him with the power to be himself.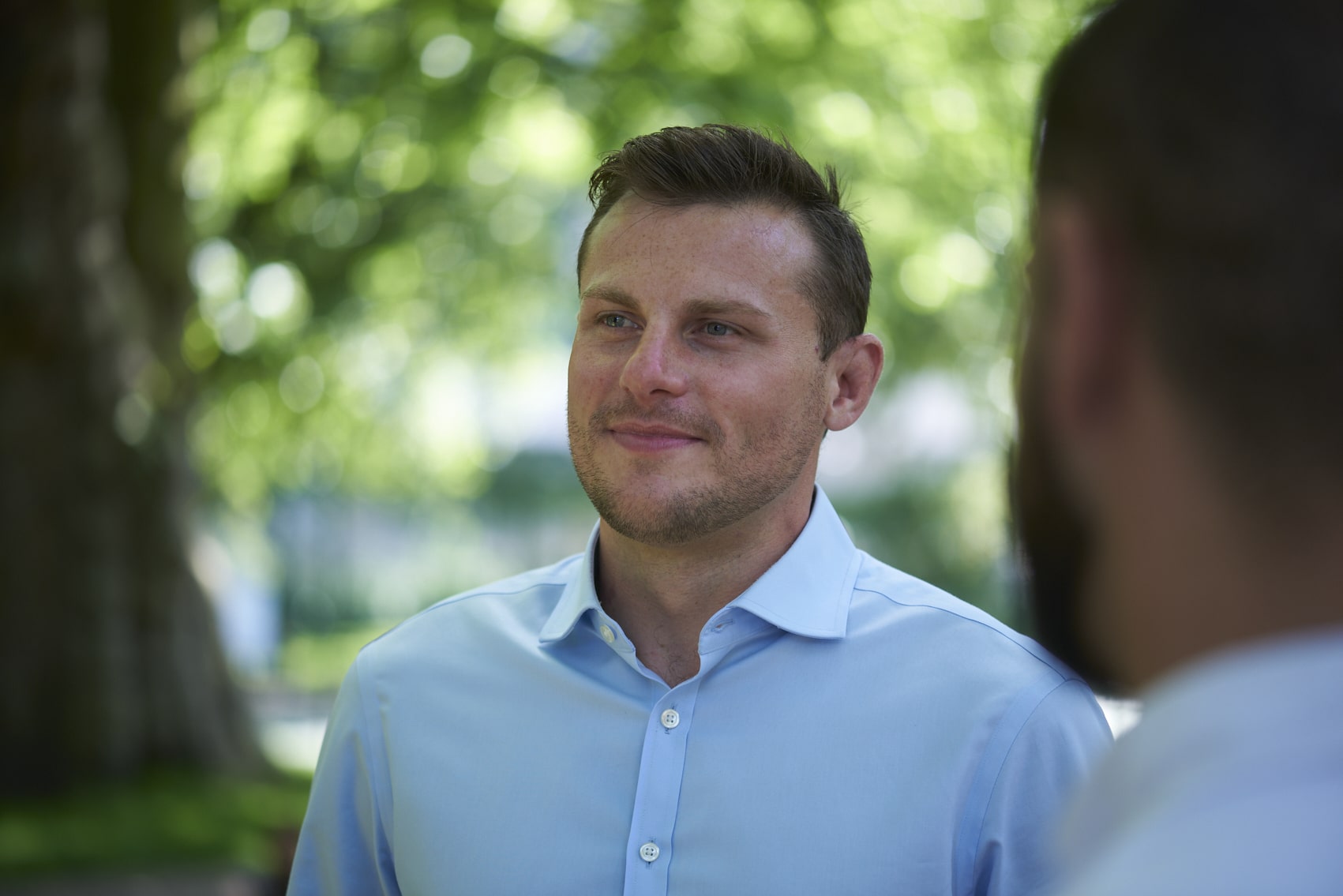 What made you join Freemasonry?
From an early age, I have always been surrounded by Masons, mainly family friends. It wasn't until I was a bit older that I discovered Freemasonry itself and started to look into it. A rugby pal of mine invited me to meet the brethren from Royal Sussex after a rehearsal one evening. I soon signed up after that and the rest is history!
When did you first realise you were gay, and when did you begin telling others?
Honestly, I can't really put my finger on a specific time that I realised I was gay, but it is probably a good 15 years ago. It has been a slow realisation for me, so only in the last seven years did I begin to come out to my friends and family.
Were you openly gay when you joined the Freemasons?
When I first joined Freemasonry I wasn't openly gay, I didn't come out to my Lodge Brethren until ten years after joining. I felt like this was the right time for me to come out as I was eventually comfortable in sharing the fact I was gay. 2022 is special to me in many ways as my coming out to my Lodge just so happened to coincide with me becoming Worshipful Master.
What has been your experience as a Freemason and a gay person?
My experience has been fantastic! Freemasonry, especially my Lodge, has continued to support me in all of my endeavours, whether that is related to my sexuality or otherwise. Freemasonry offers such a unique platform in which to be yourself, whoever you are.
What was the reaction of other Freemasons when they discovered you were gay?
The Masonic community has been very accepting. I received very positive messages from members of the Craft who have been relentlessly supportive. It was fascinating to be able to meet other gay Masons who introduced themselves to me after I started to make my sexuality public. The support from them and everyone else who has confirmed their support, has been wonderful.
How would you describe the relationships with other Freemasons in terms of emotional intimacy, openness, honesty, support, tolerance, and acceptance?
 As a young Mason, in age and in my Masonic journey, I feel I have brought so much to the table with regard to tolerance, openness and support. For most of my Masonic tenure, I have championed young and new Masonic clubs. This has really opened my eyes to what we can all achieve as individuals, but more importantly, how we can shape the future of Freemasonry.
By being open and educating those around me, I have been bowled over by the tangible support shown to me and many other gay Masons.
Communication is very powerful and is a great way to educate those who don't know much about the gay community. The demographic of the Masonic membership is vast, and for that reason, we all need to be respectful of how we approach sexuality, myself included. I know many members who grew up in a time when homosexuality was very much frowned upon and in some cases, illegal. For this reason, I believe the only way to help anyone understand is by sharing my experiences, the problems I've encountered and the challenges I've faced. 
Could you describe your level of openness with Freemasons about your sexual orientation?
I am very open about being gay, but only to the point of being asked. My sexuality isn't a subject matter that is relevant in every conversation I have, nor is it particularly interesting. The area I feel that we need to adapt is the way we approach our membership in including them as an individual, and then as a community.
Ladies' Festivals are a very important and traditional part of Freemasonry, thanking wives for their unrelenting support of their husbands during another Masonic year. This should never be forgotten, but many of us don't have wives. I would not want to change the term 'Ladies Festival', but I would want those organising the events to be aware of their demographic and how it could come across to a member of the Lodge with a partner, who may not be as comfortable talking about their sexuality as I am.
Do you feel that Freemasons support gay members?
Absolutely. I have met some really interesting and inspiring Freemasons, gay or otherwise, who have instilled in me the power to be who I am. As a fraternity, we are very inclusive, and I feel our governing body, UGLE, continues to look for ways to include all men in an ever-changing world.
An excellent example of this is with the recent implementation of the 'Transgender Policy'. For me, this was a real turning point for Freemasonry under UGLE. It has brought our modern, forward-thinking fraternity into the 21st century.
I'm continually championing Freemasonry to all those who ask me about it and I can truly say that we are inclusive to all. What I think we could do better, is talk more about how we are actually inclusive to all. I generally tend to find that those who disagree with subjects of sudden change do so because they don't know much about the subject to begin with. I've been in this situation many times but came to realise quickly, that with some research and a supportive network, my fears were generally my own ignorance.
Did you have any preconceptions about what the Freemasons may think about gay awareness before joining?
When I was first asked to join Freemasonry, I certainly thought 'did they let gay men join?'. Of course they did, it was 2012, and the UK is a culturally diverse country and Freemasonry in England is no exception. Once I had joined and decided for myself that it was the right time to come out, the members of my Lodge were very supportive.
What does your partner think about you being a Freemason?
My boyfriend, Tom, is intrigued by Freemasonry, but not enough for him to join. He has been a huge support during my mastership and continues to help me on my journey.
What would you say to gay men thinking about joining Freemasonry?  
Freemasonry has given me a platform to be the best version of myself. I have met some of the best humans from all over the world, been accepted into Lodges thousands of miles from home with open arms and learnt so much about myself and what I'm capable of. I've been able to surround myself with like-minded individuals who have taught me the benefits of integrity, friendship, respect and charity.
We would like to thank Mitch for spending the time to share his story and Masonic journey with us.
If you've been inspired by this blog post and want more information on joining then visit our page on becoming a Freemason.